I'm happy to announce that the latest flash lite menu is available for download. This new menu, called 'Aura' features my first menu with a circular icon motion (using a motion guide) as well as a nice analog clock in the middle. The beautiful icons used in this menu are not my own; they are from gakuseisean's iVista icon pack. Many thanks goes to him for giving me permission to include these stellar icons into my menu system. You can visit his website here.

Due to feedback from the SE-NSE forums, I've decided to switch the background to a black colour and must admit it does look better! The menu is available in 3 resolutions: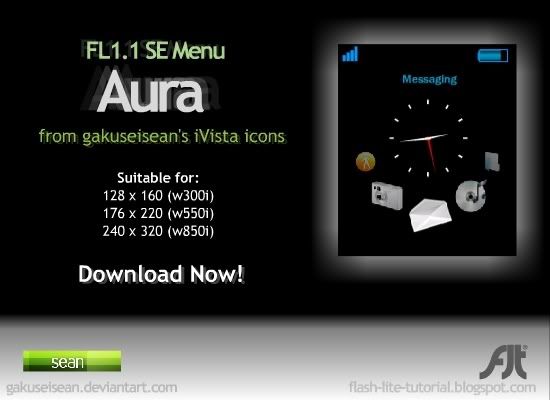 The zip file contains the thm file (it is very basic), readme and swf file.
Links:
128 x 160
176 x 220
240 x 320
I'd love to hear your comments and any suggestions for upcoming menus. Thanks again for everyone's support!